Álex Cuéllar Parreño is in charge of the fitness programmes in the area for our elite athletes. He´s Fitness and physic coach for elite athletes in sports such as basketball, tennis, athletics, volleyball, motorracing.
Head director of fitness in the tennis center of «Tenisval Altur & Alvariño» working with various players from the top 100 in the ATP, WTA and Davis Cup such us:
Daniel Gimeno Traver.
Andrey Kuznetsov. Davis Cup with Rusia.
Ricado Rodríguez. Davis Cup with Venezuela.
Estrella Cabeza. Federacion Cup with Spain.
Vladimir Volchkov – Semifinalist of Wimbledon in 1999 and Davis Cup with Belarus.
Ekaterina Makarova. Federation Cup with Russia.
Andrei Karatchenia – Davis Cup with Bielorrusia.
Bruno Rodríguez – Davis Cup with Mexico.
Elbert Sie – Davis Cup with Indonesia.
Christopher Rungkat -Davis Cup with Indonesia.
Komlavi Loglo – Davis Cup with Togo.
Stanislav Bykov – Davis Cup with Kazajistán.
Sherif Sabri – Davis Cup with Egipto.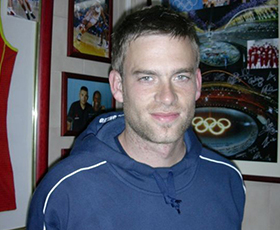 Álex Cuéllar
Graduate of Science in Physical Activity and Sport.
Nationa Athletics Coach.
Technical assistant football.